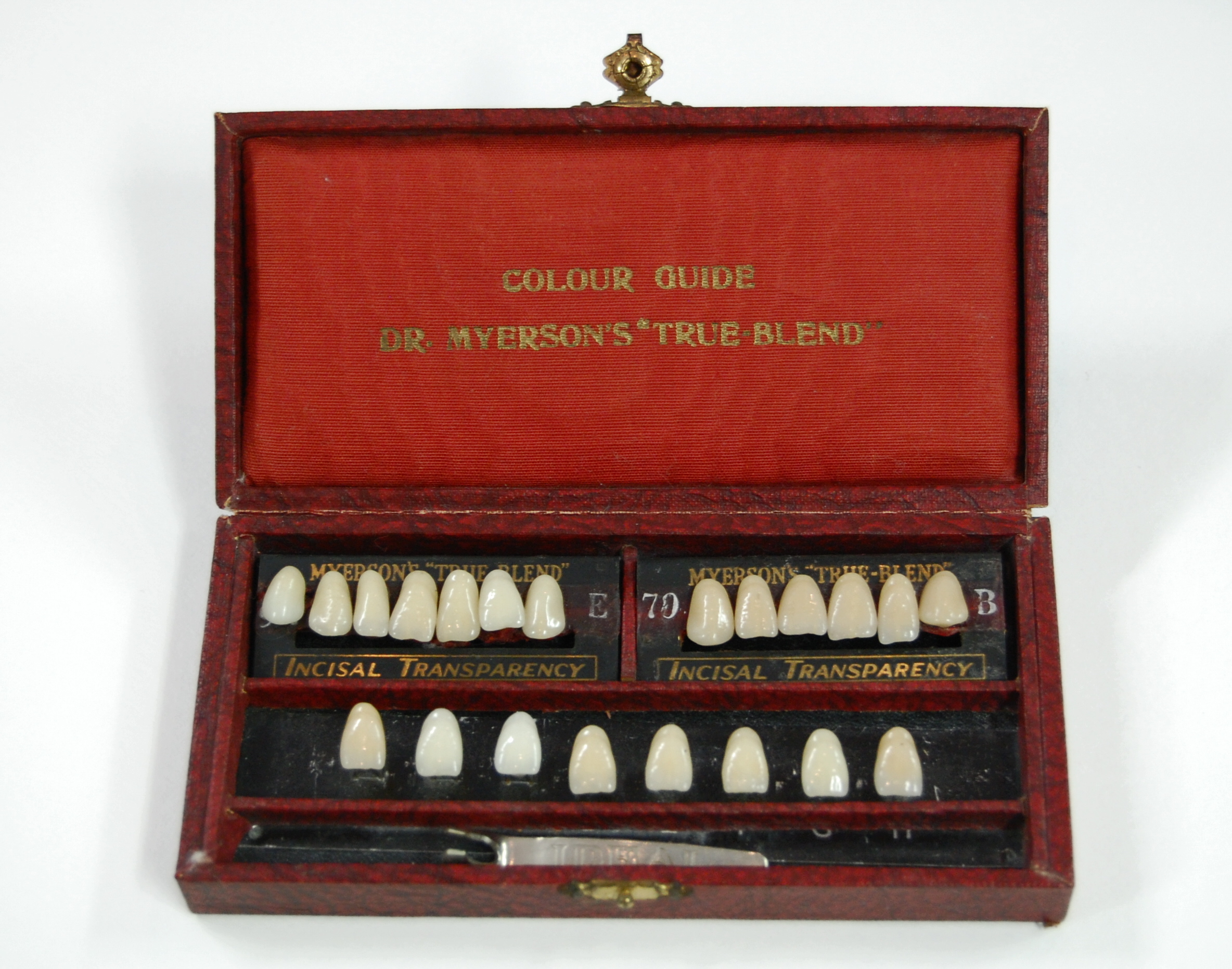 Dentistry is one of the oldest medical professions. For centuries people have substituted lost teeth with ones made from a variety of materials, including ivory and gold. People also replaced lost teeth with other human or animal ones. Since Newton's experiments with light and colour during the 17th Century, dentistry has drawn upon a better understanding of colour and light to improve the quality of prosthetic teeth. Accurate shade and colour matching remains one of the more challenging parts of dental restorations.
The 20th Century was a particularly important time for dentistry as great progress was made in advances in dental technology. In Boston, USA during the early 1900s, Dr Simon Myerson was a young practicing dentist. Myerson taught at the Harvard Dental School of Medicine, but the majority of his work focussed on the development of artificial teeth that replicated the appearance of natural teeth. In 1917 he founded the Myerson Tooth Corporation, producing artificial teeth for patients and for colour and shade reference.
In the early 20th Century – following advances in scientific understanding and education throughout the 19th Century – innovations in techniques and technology enabled dentistry to develop new products and procedures. In June 1940, Time Magazine published an article titled Medicine: Unspottable Teeth on Dr Myerson and his sons, detailing their invention of "True-Blend". "True-Blend" artificial teeth had a porcelain core made of one of ten different shades. The teeth or tooth was then matched to the patients' original teeth or to a shade that best worked with their complexion. The artificial teeth were finished with a layer of transparent enamel for a realistic finish.
Myerson and his sons brought about important advances in prosthetic dentistry. Since the early 20th Century our scientific understanding of colour has improved and scientific instruments for colour measurement have become more sophisticated. This has contributed greatly to the popularisation of 'cosmetic dentistry'. Myerson was and still is a well-known name in dentistry and the Myerson dental company continues to produce and conduct research into removable prosthetics.
This object is on display in the Dentistry display case at the George Marshall Medical Museum.