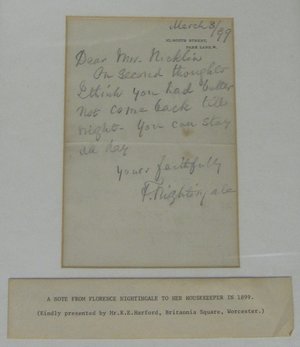 Florence Nightingale wrote this letter to her housekeeper in 1899. Miss Nightingale was a resident in Worcester for a short while during her old age. Florence Nightingale is best known for her career as a nurse during the Crimean War in the mid-19th Century, as well as her reforms of the training and practices of British nurses in hospitals.
Florence Nightingale helped to improve the conditions for soldiers in army hospitals in the Crimea by changing their diet and attempting to increase standards of hygiene. She is known as the lady with the lamp as a result of popularised images of her work printed in British newspapers.
The Museum also holds a copy of one of her books: "Notes on Hospitals" which outlined her ideas on hospital design and management. As a result of her training schools (and the support and work of other nurses and doctors), British nursing was transformed into a highly respectable and well-trained profession with very strict rules regarding hygiene.
For more information click to download the 1st, 2nd and 3rd of three interpretation panels from a 2017 temporary exhibition about Florence Nightingale and her impact upon hospital design.